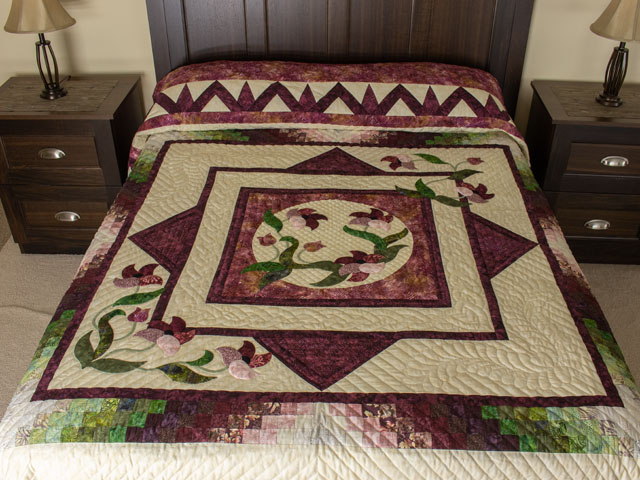 Rainbow Reflections – CJHorst Original
A queen size quilt that has an excellent combination of skills. It is an original design by C Jean Horst, using needle turn appliqué, machine piecing, decorative hand quilting and great 100% quilters cotton fabrics in colors of plums, mauves and greens in a tasteful combination. An amazing design by Lancaster's renowned designer. Note the abundance of quilting surrounding the focal center applique work. The background fabric is a fine light tan print. Quilted by an Amish friend. Signed and dated by its designer. Copyright pattern — no directions are available.
A fine golden 100% cotton fabric covers the back of the quilt. The quilting density is very good, averaging about 130 linear inches of stitching per square foot. The stitching is very good with about 8-9 stitches per inch. The quilt has a small documentation tag sewn into the back side of the quilt documenting the maker, fabric content, date, name of pattern, and a note about being made in America, quilted by an Amish friend. Excellent choice! A high quality quilt.
Quilt ID: hs8803
Product Gallery: