Gwen Gwinner Quilts
Around 20 years ago, Gwen's daughter asked her to make a memory quilt from the clothes from a family member that had passed away. With basic sewing skills, she knew how to cut and sew the many blocks that eventually became a quilt top.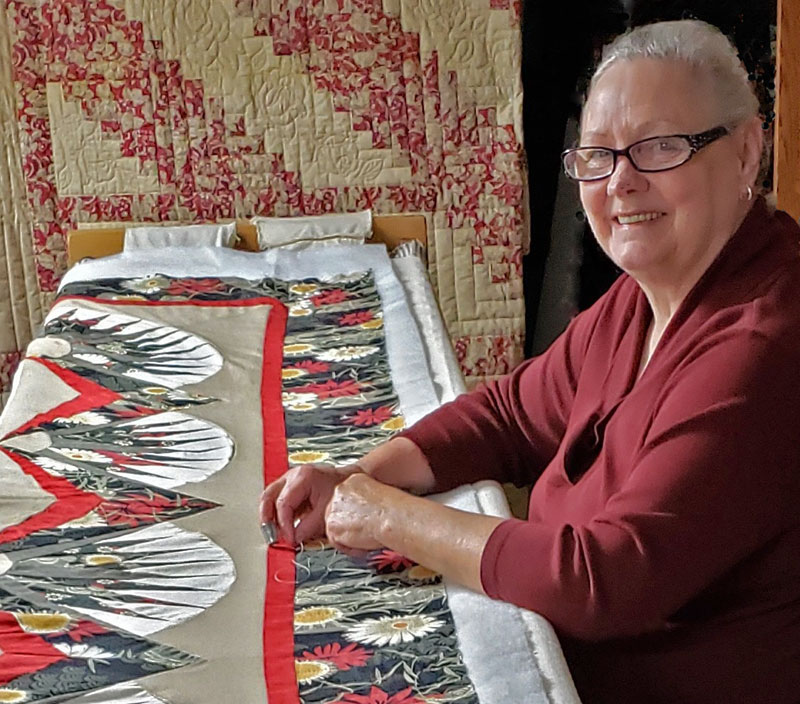 Wanting to learn hand quilting, Gwen purchased a quilt frame from a shop, and a Mennonite friend sat down to show her the process of hand quilting.
Gwen's passion for quilt-making in the traditional Mennonite style has continued since that day! Gwen says, "It always amazes me how a bit of fabric can become beautiful quilts. I enjoy the process to the very last stitch!"
This Winner's Circle quilt is striking in the blue print and solid white fabrics.   The quilting motif is quite full in the center of the blocks, with leaves and a central flower.  The border is quilted in diagonal lines.  It is a very unique quilt pattern, one you'd not find very often. It measures 90 inches square.

This nine patch Navy insignia quilt is made from reproduction vintage fabric with little sailors, anchors, stripes, and more that signifies Navy days.  It's a great baby quilt or throw,  and sure to be appreciated! It measures 41" x 49"

This Nine Patch quilt measures 60" x 50.5 inches, a nice size for a baby quilt or throw.  Made in complementary colors of aqua, pinks, teals, and more, and the white blocks have tiny little flowered designs.   It makes a wonderful heirloom quilt to be treasured.

This sweet little wall hanging measures 30 inches square,  a cute little take on the nine patch pattern. The setting squares have quilted Iris flowers to enhance the nine patch flowers,  and a couple Hummingbirds have come to visit!  The backing is white-on-white fabric with tiny vines and leaves, and there is an attached sleeve for hanging,  or it will make a nice table cover as well.

This table runner is made with neutral batik charms, with a variety of nature's patterns that include leaves, swirls, paisley, and dots,  surrounded with a border and hand quilted. It measures 23" x 40".

This is a vintage 'Footprints in the Sand' quilted wall hanging,  and a sleeve has been sewn on for hanging,  with detail quilting around the elements in the panel. It measures 30" x 42"

Each double nine-patch block measures three inches,  made with scraps and cream muslin fabrics.  The blocks are surrounded with tan color sashing strips with tiny red hearts, and quilted in a cable and diamond motif,  with tiny nine patch blocks used as cornerstones. The center of the quilt has two borders;  a cream color muslin border and a flowered fabric border that complements the center of the quilt.  The last border is cream color muslin that is ten inches wide, and the flowered fabric finishes the quilt in binding,  quilted with both a cable motif and straight lines., with 8 quilting stitches per inch. The quilt measures 90" x 100"

This Sampler quilt includes a variety of patchwork blocks that include  Dresden Plates, Ohio Stars, Bear Paw, Churn Dash, Bow ties, and a few other patterns,  with sashing and nine patch corner squares surrounding each block, and a border that completes the quilt top.  The backing is neutral cream color muslin. This quilt measures 86" x 86".