Karel's Kreations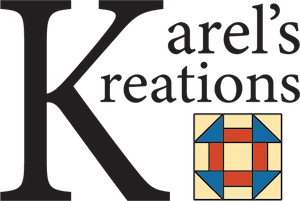 Karel's heritage is rich in quilting history with generations of quilters behind her on both sides of her family.  As a young girl her mother taught her how to sew her own clothing which ended up being a great foundation, but it was sleepovers at her Grandma's, with patient lessons in learning hand embroidery, that contributed to her love of hand sewing.
 At the time of her wedding her Grandma taught her step by step how to make a quilt which resulted in her wedding quilt and a passion for the art of quilting was born. Working for many years at a local quilt shop increased her knowledge of quality fabric and quilting techniques.
For 25 years Karel has been creating unique wall quilts and accent pillows to sell locally.  With a love for whimsical design, and combining appliqué with piecing and touches of embroidery, she especially enjoys creating seasonal wall quilts and pillows.
Residing all of her life here in Lancaster County,  she lives with her husband and their little dog.  She loves spending time with her family and being a Grammy. When she's not sewing you'll likely find her cooking, gardening, or reading.
Showing 1–10 of 82 results
Here is one of Karel's most popular designs, the Trumpet Flower, and it continues to be a customer favorite. Winding trumpet flowers, vines and leaves are surrounded by small log cabin blocks and primitive stars in each of the 4 corners.  Multi colored fabrics have been used in warm, country colors to give it a "scrappy" look as well.  Karel enjoys incorporating many different fabric prints in her designs along with hand quilting and hand appliqué that are beautifully done. A hanging sleeve and Karel's signature patch are included on the back of the quilt.
Showing 1–10 of 82 results