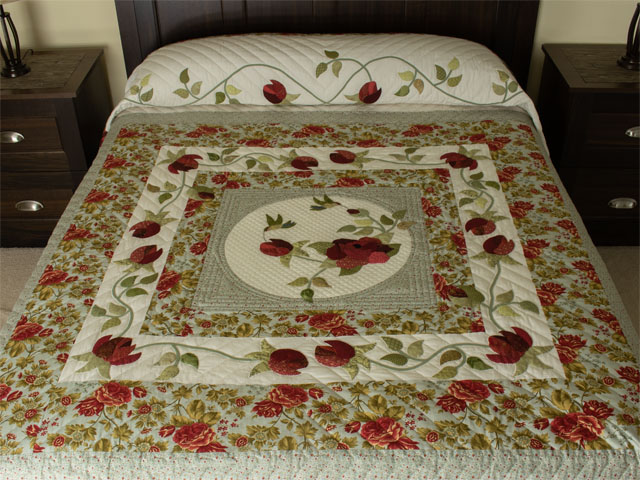 I Promised You a Rose Garden – CJHorst Original
Elegant and refreshing! Another very popular C Jean Horst original pattern design. Do not miss the beautiful little hummingbirds busy enjoying the roses! A very lovely original designed quilt in and pale sky blue and burgundy and meadow greens on creams. The design, the fabric selections, the care taken with the applique work, the abundance of quilting and the very uniform stitching designs are all extraordinary. A beautiful heirloom quilt from Lancaster County. Quilted by a very skilled Amish woman, and signed and dated by Lancaster's renowned quilt designer, C Jean Horst. Copyright pattern — directions unavailable.
The back of the quilt is covered with a 100% quilter's cotton fabric in tone on tone ivory cream. The quilting density is outstanding, averaging about 110 linear inches of stitching per square foot. The stitching is excellent with 8–9 stitches per inch. The added documentation on the back corner tag makes this an heirloom piece. Appliqued by hand in America. Quilted by hand in America by our Amish friend. Design is Original by C J Horst and copyright protected.
Quilt ID: hs9023
Product Gallery: